Watch the spectators watch us ! ! "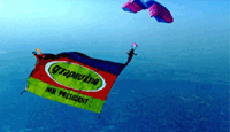 Great spectator value and a talking point for long after our professional team has landed.
Contact Neeve Oosthuizen neeve@para-sky.co.za to arrange a great attraction at your next out door event and or to sponsor our team and command exclusivity.
Advertise with us and we'll land just about anywhere - day or night
Ask us how this exciting show jump can pay for itself. We jump country wide
"Spectators dig it !!"